Lata Mangeshkar's Love Affair With Sarees : A Musical Icon's Style
Indias adored and celebrated singer Lata Mangeshkar was a Musical Icon but also was widely renowned for her deep affection for sarees. In this article, we will delve into the life of this iconic singer, along with her profound love for the traditional Indian attire. From hearing her songs in our grandparents rooms to enchanting renditions of her timeless classics by various other prominent Indian singers in our industry, the celebrated Indian singer
Lata Mangeshkar
undeniably etched an indelible mark. Born in 1929, the iconic singer found her wings in the
music industry
after India gained independence. With her ethereal, melodious voice, she swiftly captured the hearts of listeners and earned accolades for her craft.
Moreover she skilfully adapted her voice to match the evolving styles of generations and their iconic stars. The singer held her throne as the leading primadonna playback singer, sharing the limelight with prominent figures who played a pivotal role in shaping the Indian Music Industry today. There was simply no one quite like her, effortlessly infusing her songs with raw emotions and reaching high octaves without straining her vocal cords. Who would have thought that her soulful melodies and meticulous compositions would continue to resonate across generations .That is the type of effect Lata Ji had with her singing prowess and style
Her Love For Sarees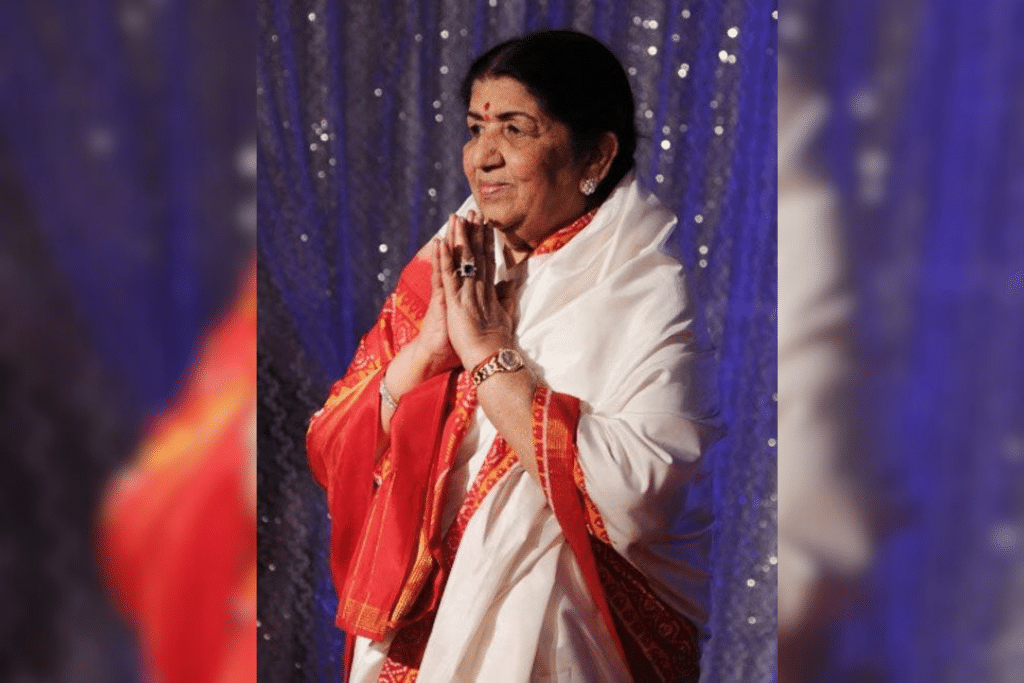 In addition to her remarkable and terrific singing career, Lata ji had a deep affinity for handloom sarees. The soulful songstress was often seen wearing sarees for various occasions. Her preferred attire consisted of graceful and understated pastel drapes that were usually wrapped around her shoulders and neck. She always complemented her ensemble with a small modest crimson red bindi and a warm smile. Much like her melodious and honey-like voice, her fashion sense exuded a modest and elegant charm. Her simplicity and down-to-earth demeanour were perfectly mirrored in her simple bordered sarees really well.Aside from white sarees Lata ji also loved banarasi , patola and various other iteration of silk sarees in muted colours adorned with elegant stripes, dainty prints and motifs.
Additionally from narrating Simran's journey through songs in "Dilwale Dulhania Le Jayenge" to bringing Rosie's character to life alongside her on-screen companion, Dev Anand, in "Guide," her voice seamlessly brought a vibrant energy to the world of Indian cinema. Although she may not have graced the silver screen herself, but her powerful and melodious voice was impossible to ignore, which also made her earn the title of Nightingale.
Written By Roshni Kumar
Read More:Bollywood Style: Classic Fashion Trends That Are Now Making A Comeback